Recipes
Asparagus, Peas, and Cucumbers 'Cacio e Pepe'
Asparagus, Peas, and Cucumbers 'Cacio e Pepe'
By Jess Damuck
We're thrilled to share this vibrant recipe from Friend of the Valley Jess Damuck's new cookbook "Salad Freak". Here's what Jess has to say about this take on Cacio e Pepe: "There's something ethereal about this salad that really speaks to the season. Shaved vegetables are so elegant and fresh. You could also add some raw zucchini noodles in place of cucumber if you wanted to, serve it on top of thin, crispy or grilled chicken cutlets, or you could pile it on top of baked pizza crust (I might add a little burrata if I was doing that)."
Ingredients
Serves 2 as a light meal
1 cup (145 g) shelled fresh (or frozen) English peas
2 Persian cucumbers, or 1 English cucumber
1 pound (455 g) asparagus
1 lemon
1 clove garlic
1 handful arugula
Parmesan cheese
Pecorino cheese
Extra-Virgin Olive Oil
Kosher salt and freshly ground black pepper
Recipe
COOK: Boil water in a small pot and salt it heavily. Prepare an ice bath with a fine-mesh sieve set over it to containyour peas. Add 1 cup (145 g) peas to the boiling water and boil until the peas are crisp-tender and bright green. Strain and transfer to the ice bath.
PREP: Trim the ends off 2 Persian cucumbers or 1 English cucumber and shave into long ribbons using a Y-peeler. Add them to the ice bath to crisp up. Preheat the broiler with the rack about 4 inches (10 cm) from the heating element. Using a Y-peeler, peel 1 pound (455 g) asparagus from root end to tip. When you get down to where you can't peel anymore, trim off the ends and discard, and transfer the peelings to a rimmed baking sheet.
COOK: Drizzle the asparagus with a bit of oil and season with salt and lots of black pepper. Toss well to coat. Broil until just charred—about 4 minutes.
MAKE THE LEMON GARLIC VINAIGRETTE: In a large bowl, combine the juice of 1 ⁄ 2 lemon and about 1 ⁄ 4 cup (60 ml) oil,and grate the garlic clove into the mixture.
ASSEMBLE AND SERVE: Drain and pat dry the cucumbers and add them to the bowl with the dressing, along with 1 handful arugula, the asparagus, and peas. Transfer to serving plates or a platter. Grate a fluffy cloud of Parmesan and Pecorino cheeses over the top and stir everything together before taking your first bite.
Olive Oil
Wonder Valley Olive Oil elevates any meal through its bright, herbaceous, peppery flavor and delivers a delicious dose of polyphenols, the powerful antioxidant associated with longevity of life. Our 2022 harvest oil is a blend of Arbequina, Favalosa and Tuscan olives hand-picked from the groves in Lake County, CA and pressed within hours of harvest by a master miller. *Harvest Update: We are currently bottling the 2023 harvest and expect it to arrive by the beginning of the year. For now, we have just a few bottles left of our 2022 harvest.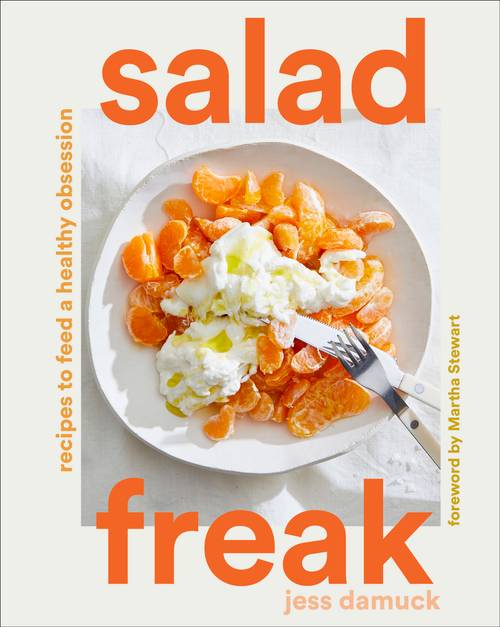 Explore all that a salad can be with Jess Damuck's book "Salad Freak."