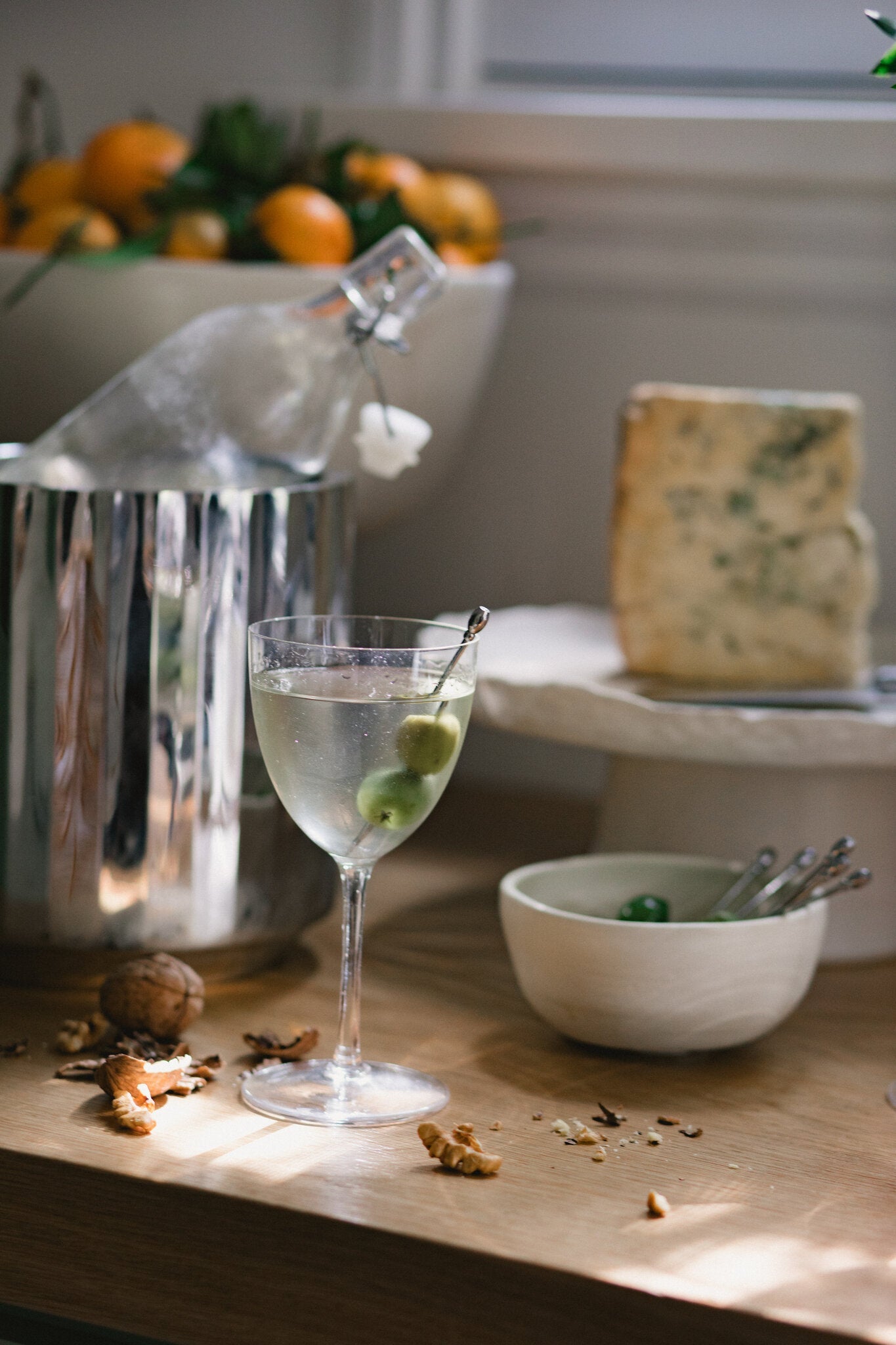 Olive Oil Martini
By Olivia Muniak
The words effortless and hosting rarely go together, but Olivia Muniak is just one of those rare hosts. As a chef, event designer and seasoned host, she's found a balance between keeping things lazy and fancy while knowing how to make simplicity shine.
She's shared an unexpected way to put fine extra virgin olive oil to good use — in a martini.
Ingredients
OLIVE OIL "WASHED" GIN:
1 750ml bottle of gin (Fords, Four Pillars London Dry)
4oz or ¼ c high quality Extra Virgin Olive Oil
A few sprigs of rosemary or fresh fennel frond
BATCH MARTINI:
750 ml of olive oil infused gin
3⁄4 cup (180 mL) of dry vermouth
3⁄4 cup (180 mL) of bottled or filtered water
Garnishes: lemon twists, olives, cocktail onion
Steps
OLIVE OIL "WASHED" GIN:
A few days before your planned soiree make the olive oil infused gin. In a large container sealable lid, pour in the gin, olive oil and shake vigorously. Then add in the herbs and allow to infuse on the counter for 12 hrs.
Remove the herbs and pour the infused gin into a freezer safe container, for at least another 12hrs. The olive oil will freeze and separate from the gin. Remove from the freezer and quickly strain the gin through a very fine strainer. The point is to remove the olive oil solids from the gin for a clear liquid. You can repeat this process as necessary but keeping the mixture in the freezer helps the fat and alcohol separate.

BATCH MARTINI:
Pour all ingredients in a glass flip-top bottle (these are essential in my house) and store in the fridge if using that evening, or freezer for longer storage. Be sure to leave a little extra room because the liquid might freeze slightly.
Remove from the fridge/freezer and set out for guests in an ice bucket, with martini glasses, and garnishes for a serve yourself martini bar.
Olive Oil
Wonder Valley Olive Oil elevates any meal through its bright, herbaceous, peppery flavor and delivers a delicious dose of polyphenols, the powerful antioxidant associated with longevity of life. Our 2022 harvest oil is a blend of Arbequina, Favalosa and Tuscan olives hand-picked from the groves in Lake County, CA and pressed within hours of harvest by a master miller.