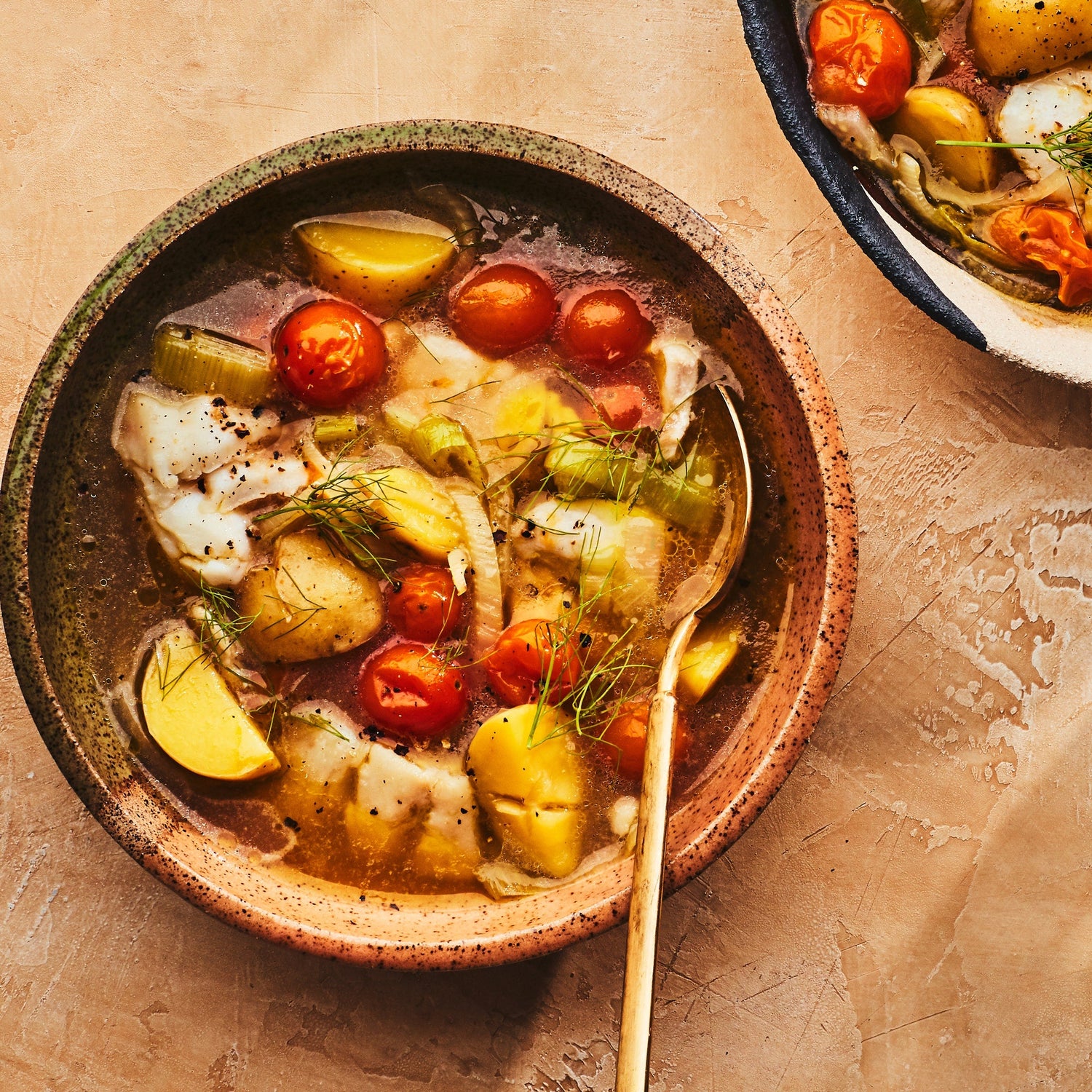 Brothy Seafood Chowder
By Alison Carroll
The homemade stock makes all the difference in this flavorful, savory, perfectly smooth chowder. Look for a trusted seafood monger who filets and debones the fish themselves. They usually will have plenty of fishbones left over.
Ingredients
8 servings
STOCK
3 Tbsp. extra-virgin olive oil
2 lb. fish bones, rinsed
1 small onion, unpeeled, quartered
2 stalks celery, chopped
1 leek, dark green parts chopped, rinsed, white parts cut into ¼" rounds, rinsed, reserved for stew
1 dried chile de árbol or ½ tsp. crushed red pepper flakes
1 garlic clove, smashed
6 thyme sprigs
2 bay leaves (optional)
½ cup dry white wine or sake
1 Tbsp. fennel seeds
STEW
1 lb. small Yukon Gold potatoes, quartered
Kosher salt
1 fennel bulb, halved lengthwise, thinly sliced crosswise, fronds reserved for serving
1½ lb. boneless, skinless white fish (such as cod), cut into 1" pieces
2 cups Sun Gold tomatoes
Extra-virgin olive oil (for drizzling)
Freshly ground black pepper
Recipe
STOCK
Heat oil in a large pot over medium. Add fish bones and cook, stirring occasionally but being careful not to smash down on bones, until lightly browned in spots, 6–8 minutes. Add onion, celery, dark green leek pieces, chile, garlic, thyme, and bay leaves (if using). Cook, stirring occasionally and scraping bottom of pot to make sure nothing is sticking, until onion is golden brown, 4–6 minutes. Add wine and cook, stirring occasionally, until reduced by about half, about 1 minute.
Add fennel seeds and 12 cups cold water to onion mixture and bring to boil. Reduce heat to medium-low, bring to a simmer, and cook, skimming off any foam that rises to the top, until stock is nicely flavored and bones are still intact, 40–50 minutes. Let cool 30 minutes. Strain through a fine-mesh sieve into another large pot or bowl; discard solids.
Do Ahead: Stock can be made 3 days ahead. Cover and chill.
STEW
Place potatoes in fish stock in a large pot, season with salt, and bring to a boil. Reduce heat to medium, bring to a simmer, and cook, stirring occasionally, until potatoes are almost tender, 10–14 minutes. Add sliced fennel and white leek parts and cook, stirring occasionally, until vegetables are barely tender, 4–6 minutes. Add fish and cook, stirring occasionally, until fish is opaque, about 4 minutes. Remove from heat and stir in tomatoes; taste and adjust seasoning.
Ladle chowder among bowls and top with fennel fronds. Drizzle with oil; season with pepper.
Olive Oil
Wonder Valley Olive Oil elevates any meal through its bright, herbaceous, peppery flavor and delivers a delicious dose of polyphenols, the powerful antioxidant associated with longevity of life. Our 2022 harvest oil is a blend of Arbequina, Favalosa and Tuscan olives hand-picked from the groves in Lake County, CA and pressed within hours of harvest by a master miller.