Recipes
Ensaladang Peach (Filipino Peach Salad)
Ensaladang Peach (Filipino Peach Salad)
By Woldy Reyes
We're in high season now for peaches and this recipe is the perfect way for you to use one of summer's star fruits. Here's what Woldy has to say about the recipe: "An easy salad or side dish for all those grilled meat and fish. This salad was inspired by Ensaladang Mangaa (Filipino Mango Salad) which has fresh mangoes, tomatoes, onions and vinegar. Instead of mangoes, I traded it in for juicy summer peach for seasonality and made it heartier with the addition of crisp napa cabbage. The dressing is a flavor bomb of fish sauce, freshly squeezed lime juice and honey to balance it all out. The Wonder Valley Olio Nuevo beautifully holds the dressing together. It's a bold and refreshing dish perfect for summer cookouts."
Ingredients
1 large firm juicy peach, pitted and sliced into wedges
1 pint yellow cherry tomatoes, halved
5 napa cabbage leaves, cleaned
1 small shallot, thinly sliced
1 small jalapeño, halved and thinly sliced
1 whole lime, zest only
1 tablespoon sunflower seeds
Fresh dill, for garnish
2 whole limes, reserve one whole lime for zesting the salad, freshly squeezed
2 tablespoons honey
1 1⁄2 tablespoons, fish sauce
1⁄2 cup Wonder Valley Olio Nuevo
Freshly ground black pepper
Recipe
To make the dressing:
In a small bowl whisk all the ingredients.
Season with freshly ground black pepper.
To make the salad:
In a large bowl, toss in peaches, tomatoes, napa cabbage, shallot, jalapeño and zest of 1 lime.
Spoon over half of the dressing over the salad and with your clean hands, toss the salad until coated.
Transfer the salad onto a serving platter.
Shower sunflower seeds over the top.
With your clean and dry fingers, tear fresh dill over the top.
Spoon over remaining dressing over the salad.
If there's dressing left, reserve for your next salad.
Drizzle Wonder Valley Olive Oil to finish the salad and enjoy immediately!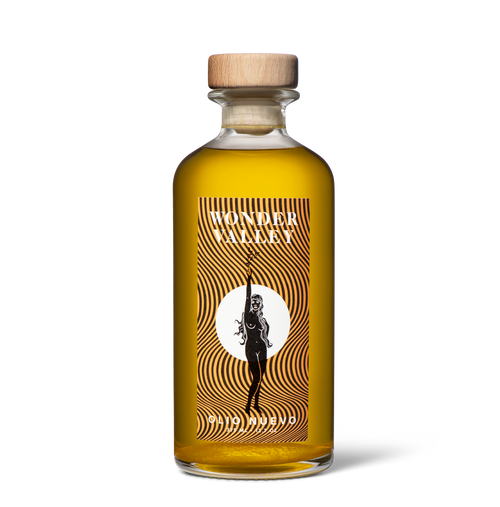 Olio Nuevo
Our Olio Nuevo is a celebration of the new harvest - a bright, intensely fresh extra virgin olive oil from the early autumn fruit, plucked from the trees at the first hint of ripening. This is olive oil in its purest form, a brief and triumphant proclamation of the season's start, to be used promptly and abundantly. *Harvest update: we have a small inventory of the 2022 harvest left in stock, which we've discounted to a temporary price of $25. The new harvest will arrive after Christmas, subscriptions will be for the full pricing of $40 for recurring charges when the new harvest arrives. Thank you!