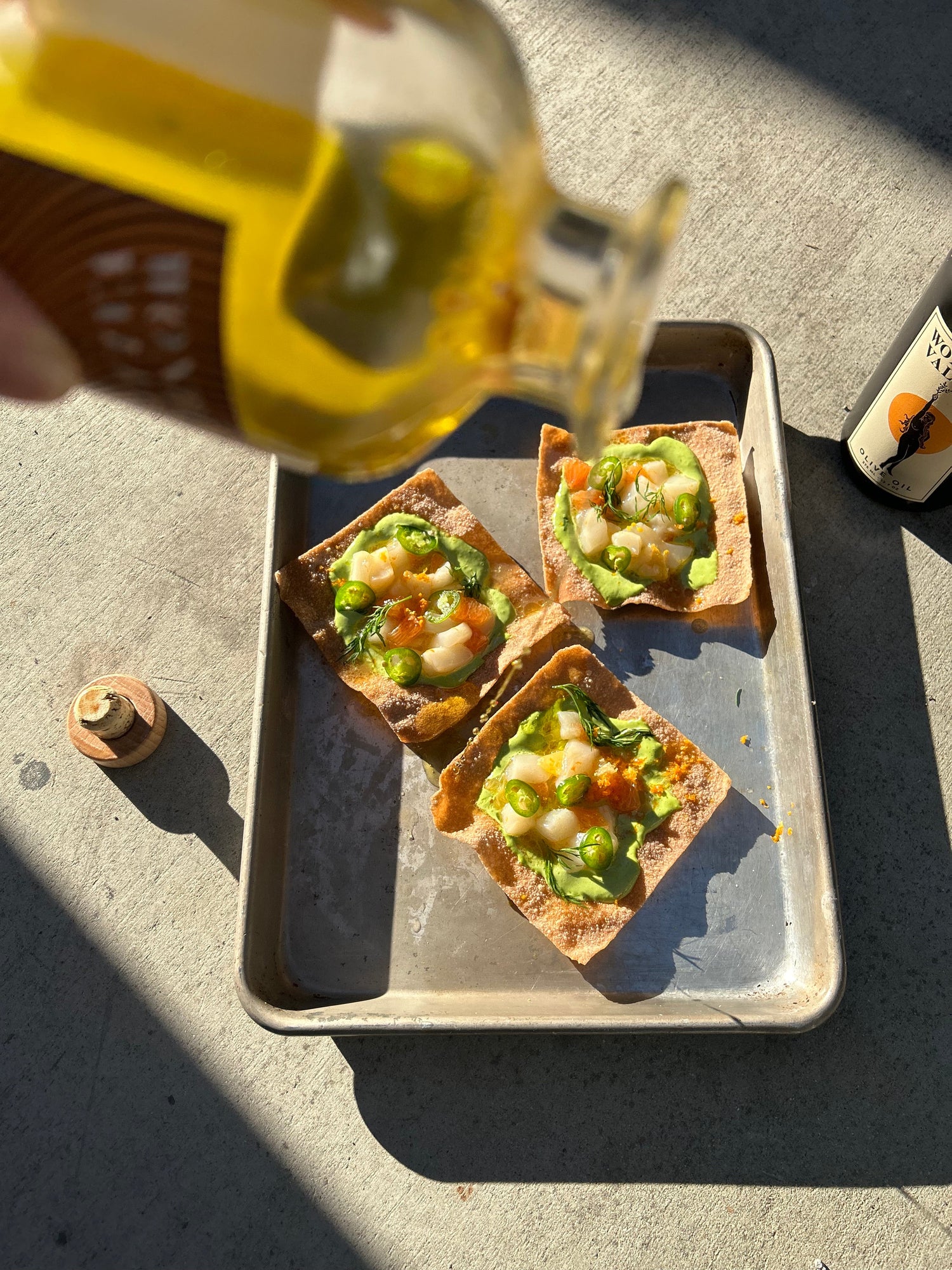 Spicy Scallop Wonton Crisp
By Sandy Ho
Sandita's World is a colorful and delicious one. We did a digital double take after seeing photos of her vibrant dumplings, a riot of colors and terrazzo-like patterns. Perhaps you've been lucky enough to catch one of her pop ups with Woon Kitchen in LA. We're thrilled to have a recipe from Sandy to share with you.
Green Herb Aoili
1 cup loosely packed mixed herbs (such cilantro, scallion, dill and parsley)
2 egg yolks
1 small garlic clove, minced
2 tablespoons champagne vinegar
3/4 cup olive oil + 1/4 cup organic grapeseed oil
Salt to taste
Method
Combine the herbs, egg yolks, garlic and vinegar in a blender, pulse in 5 second intervals, scraping down the sides. Repeat 4-5 times (don't worry if this is not completely blended yet!)
With the blender running on high, add the oil in a slow, steady stream. Continue blending until emulsified and thickened, stopping once to scrape down the sides. Taste and season with salt.
Wonton Crisps
1 pack x square Wonton Wrappers (you will just need 6-8 wrappers for this recipe)
1 quart of neutral oil for frying
Salt
Method
Heat oil in a medium sauce pan to reach 325F.
Working in batches of 2-3, add wonton wrappers one at a time and fry until crispy and golden.
Drain wonton crisps on a lined sheet pan and immediately season with salt.
Spicy Scallop Crudo
4 jumbo scallops (trimmed, cleaned and diced into 1/3 inch cubes)
Zest of 1 cara cara orange
Zest of 1 meyer lemon
1 medium meyer lemon, segmented + 2 tbs juice reserved
1/2 medium cara cara orange, segmented + 2 tbs juice reserved
1/2 medium cocktail grapefruit, segmented + 2 tbs juice reserved
1 tbs fish sauce
2 tbs olive oil
1/4 habanero, deseeded and finely chopped
1/4 serrano finely sliced
Salt to taste
Method
Combine all ingredients in a small bowl and season with salt to your liking. I love using California citrus right now, but if you don't have access to these varieties you can just use regular lemon and orange.
To assemble
Spread 2 teaspoons of the green herb aoili onto your wonton crisps, top with Spicy Scallop Crudo and garnish with extra slices of Serrano and citrus segments + fresh herbs of your liking.
Olive Oil
Wonder Valley Olive Oil elevates any meal through its bright, herbaceous, peppery flavor and delivers a delicious dose of polyphenols, the powerful antioxidant associated with longevity of life. Our 2022 harvest oil is a blend of Arbequina, Favalosa and Tuscan olives hand-picked from the groves in Lake County, CA and pressed within hours of harvest by a master miller.