Recipes
Springtime Rolls with Miso-Kale Pesto
Springtime Rolls with Miso-Kale Pesto
By Hetty McKinnon
If spring had a flavor, it would be these brightly herbaceous "spring" rolls. The asparagus, snow peas, lettuce and abundant herbs provide a fresh, crisp mouthful, perfect for a gathering or a fun roll-it-yourself midweek dinner for the family. We're thrilled to share this recipes from one of our favorite cookbook authors, Hetty McKinnon.
Ingredients
Makes 12
Vegan and gluten free
12 asparagus spears (about 5 ounces / 140 g), woody ends removed
3 ounces (85 g) snow peas, trimmed
3 1⁄2 ounces (100g) mung bean vermicelli, soaked in water for 15 minutes
Toasted sesame oil
12 (8-inch / 20 cm) rice paper rounds
12 romaine lettuce leaves
1 avocado, cut into thin wedges
Handful of mint leaves
Handful of cilantro leaves
Handful of basil or Vietnamese mint leaves
Sea salt
MISO KALE PESTO
3 1⁄2 ounces (100g) kale leaves
1⁄2 cup (12g) basil leaves
2 garlic cloves, roughly chopped
1/3 (45g) toasted sunflower or pumpkin seeds
1 tablespoon white (Shiro) miso paste
3⁄4 (185ml) extra-virgin olive oil
Zest and juice of 1⁄2 lemon
Sea salt and black pepper
SUBSTITUTE
Mung bean vermicelli: rice vermicelli
Snow peas: sugar snap peas
Recipe
For the miso–kale pesto
Bring a saucepan of well-salted water to the boil.
Add the kale leaves and cook for 30–60 seconds, just until they are wiltedand bright green.
Remove from the water with tongs (keep the water for the other veggies), place in a colander and rinse under cold water.
Drain, then squeeze out any excess water.
Roughly chop the kale and place in a food processor or blender.
Add the basil, garlic and seeds and whiz to a paste.
Add the miso, then slowly drizzle in the olive oil, lemon juice and about 2 tablespoons of water and blend again until combined.
Stir in the lemon zest and season with sea salt and black pepper, then set aside.
If your asparagus spears are long, snap them in half so they are about 4 inches (10 cm) in length.
Bring the pan of salted water back to the boil, drop in the asparagus and snow peas and cook for about 1 minute until they are bright green.
Remove from the water with tongs (keep the water for the vermicelli) and place in a colander, then immediately refresh under cold running water until completely cold.
Add the mung bean vermicelli to the boiling water and cook for 1–2 minutes until completely transparent.
Drain and rinse under cold water.
Drizzle a little sesame oil over the vermicelli and season with a pinch of sea salt.
Set aside.

To assemble the rolls
Take a deep plate that is slightly larger than the rice paper rounds and pour in some lukewarm tap water.
Working with one round at a time, dunk the rice paper into the water and allow to soften for 30–60 seconds—don't let it get too soft or it will break when rolling.
When softened, lay it out flat on a cutting board and assemble your filling.
Starting at the edge of the rice paper closest to you (and leaving enough room to begin the rolling process), layer a piece of lettuce, followed by a small handful of vermicelli, asparagus, snow peas, avocado and herbs.
To roll
Pull the edge closest to you over the filling—pull it tight to keep everything in place.
Fold over once, then fold in the sides and continue to roll until you have a nice, tightly bound roll.
Continue with the remaining wrappers and filling.
To serve
Cut the rolls in half and serve with the miso–kale pesto.
Olive Oil
Wonder Valley Olive Oil elevates any meal through its bright, herbaceous, peppery flavor and delivers a delicious dose of polyphenols, the powerful antioxidant associated with longevity of life. Our 2022 harvest oil is a blend of Arbequina, Favalosa and Tuscan olives hand-picked from the groves in Lake County, CA and pressed within hours of harvest by a master miller.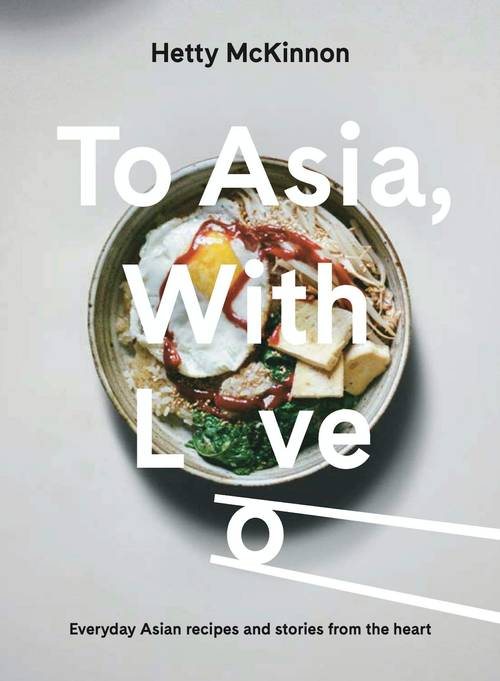 Stay inspired with Hetty McKinnon's book "To Asia, With Love."